Fill in the form below and get a FREE Quote.
"*" indicates required fields
Timeless Classic Conservatories
Inspired by period architecture, our conservatories design echoes the attractive features and ornate finishing touches you'd expect from Victorian buildings; the Classic Victorian Conservatory design is one of the most popular in the UK. Available with 3 or 5 facets, our classic conservatories adapt to any space, from a large garden to a small patio.
UPVC Victorian conservatory benefits:
A style to suit
3 or 5 faceted Victorian conservatories designed to fit your budget and space.
Finishing touches
Options to customise your conservatory from roof finials to integrated speakers.
Advanced glazing options
Whether its Georgian, leaded or stained glass on your shopping list, we'll help you find the perfect match.
Add extra light, air and Victorian grandeur to your home
Our Classic Victorian Conservatories have an advanced roof system with built-in, weatherproof design. That means we don't need lots of unsightly silicone to make your conservatory waterproof. As a room you, your family and your friends will enjoy for years to come, we also have lots of ways to help you make the space your own. From the Victorian-inspired crested finials on the roof to skirting options for the interior. Whatever your dream is for your new conservatory, we're here to bring it to life.
All Sage UPVC Victorian conservatories offer:
Coordinated colours – Create the conservatory of your choice, contemporary or traditional.
Minimum reliance on sealant
Excellent thermal efficiency
Reliable assured service
Coordinate your colours
You can choose from a selection of colour options for your conservatory to complement the design of your home. White provides a contemporary finish, while Cream, Rosewood, and Golden Oak finishes create a traditional appearance. You can also pick a wood grained exterior with a clean White interior for the best of both worlds.
Lean-To Conservatories
The simplest way to create a light-filled room
A lean-to conservatory is the simplest way to link your interior with your garden. As one of the cheapest types of conservatory available on the market, a lean-to maximises your space with a minimalist style and clean lines. A lean-to conservatory from Sage Installations offers outstanding performance, giving you a space you can enjoy for years to come, whatever the weather.
The benefits of a lean-to conservatory
Perfect for limited space
With fewer walls to build, they are the cheapest option available
Maximise space and light
Sage Installations offer a variety of ways that you can personalise your lean-to conservatory including several frame styles and colours, decorative cresting's and integrated speakers.
All UPVC Lean-to Conservatories offer:
• Optional designs – Can be finished with gable ends or be hipped back diagonally from corners.
• Less sealant – Design-engineered conservatory with life-long, watertight performance
• Excellent thermal efficiency – Our insulated roofing system ensures maximum heat retention and light diffusion.
• Reliable assured service – We have the largest network of accredited local partners in the UK.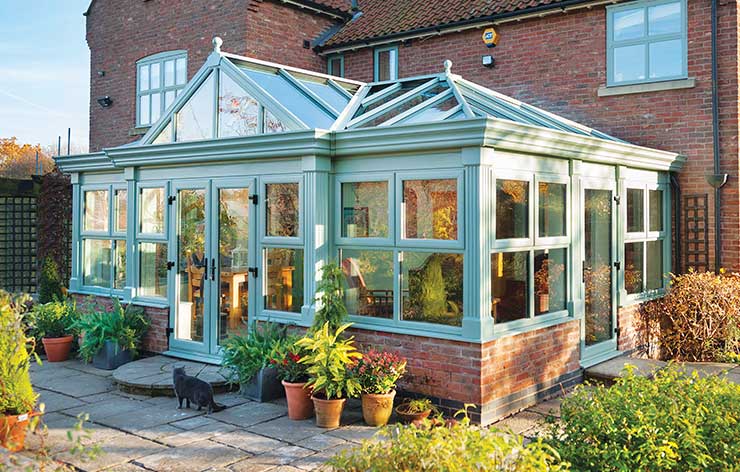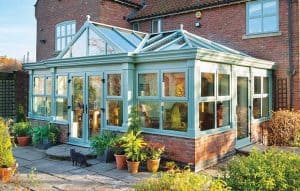 "Sage Installations replaced my tired old leaking conservatory roof with an insulated tiled roof with two glass panels, which completely transformed the space. The new roof has put an end to the extreme temperature variations in the conservatory, and the glass panels allow natural light to flood in. Now I have a bright and welcoming room which I can use all year round and it is now my favourite space in the house."
"Fantastic job, professionally fitted and looks great, noticed a small chip at the base of the door which was quickly rectified, looks great! Have used Sage several times before and would use again/recommend."
"Excellent service, worked quickly and left no mess."
"Fabulous service. Doors fitted beautifully and looked great. Team were very tidy. Well done Ryan, Andy and Ben."
"An excellent service from initial contact to installation. Highly recommended."
"All aspects of work from first contact to a courteous follow up were exceptional. The whole team have the same ethos, a very apparent desire to do a good job that they would be proud of. Excellent communication throughout the job. I would not hesitate to use them again. Sincere thanks for the care and a great job."
"Sage Installations carried out a garage conversion on our property, making our lounge larger and open plan. The job itself covered removal of the majority of the joining wall, installation of a new large supporting beam, new plastering, windows, insulation etc. The team were extremely professional, polite, well versed in their profession, and were able to adapt to changing requirements from the building control inspectors. We were kept informed of progress at all stages and the team always showed up on time ready to achieve the days tasks. The final conversion looks amazing!"
"Sage employs excellent tradesmen who work efficiently to achieve a perfect finish. They are courteous and tidy."
"Ryan Sage does what it says on the tin! He is professional, attentive to the needs of the client and totally reliable. I was impressed by the high quality of the following: workmanship; customer service; time keeping; trade skills; and all round helpfulness of the workers."